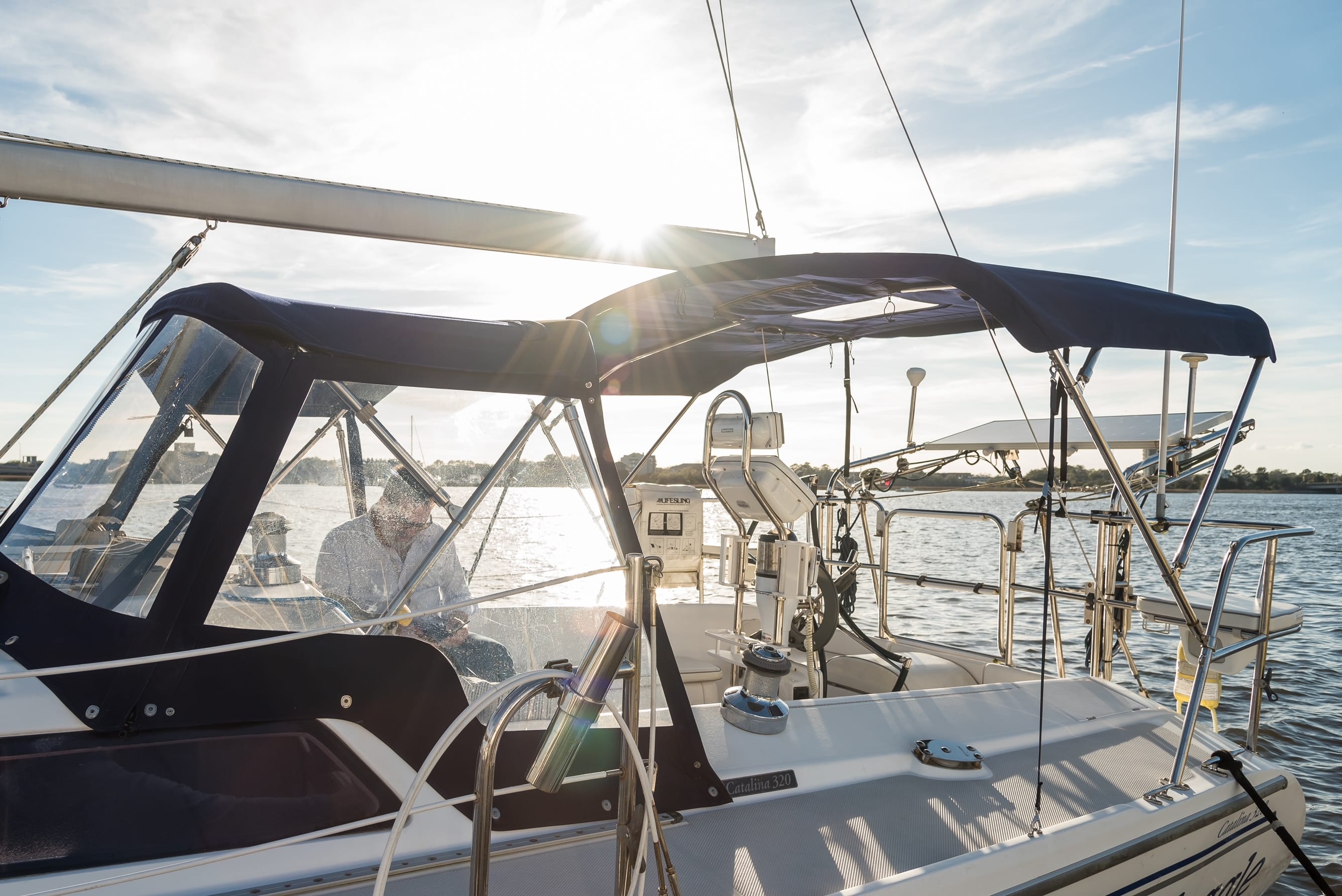 PREPARING FOR
YOUR Sail
Blue Life Charters |33 Lockwood Drive Charleston SC 29401 | (843) 743-4915
OFFERING BOAT CHARTERS IN CHARLESTON, SC LIKE NO OTHER. WE DON'T AIM TO JUST MEET EXPECTATIONS; OUR GOAL IS TO CREATE HAPPINESS AND UNFORGETTABLE MEMORIES FOR EVERYONE.
Sailing in Charleston Harbor is a magical experience that combines the thrill of the open water with the historic charm of the Holy City. Whether you're a seasoned sailor or a first-time adventurer, proper preparation is key to ensuring a comfortable and enjoyable day on the water. In this guide, we'll walk you through essential steps on how to prepare for a day of sailing in Charleston Harbor with Blue Life Charters.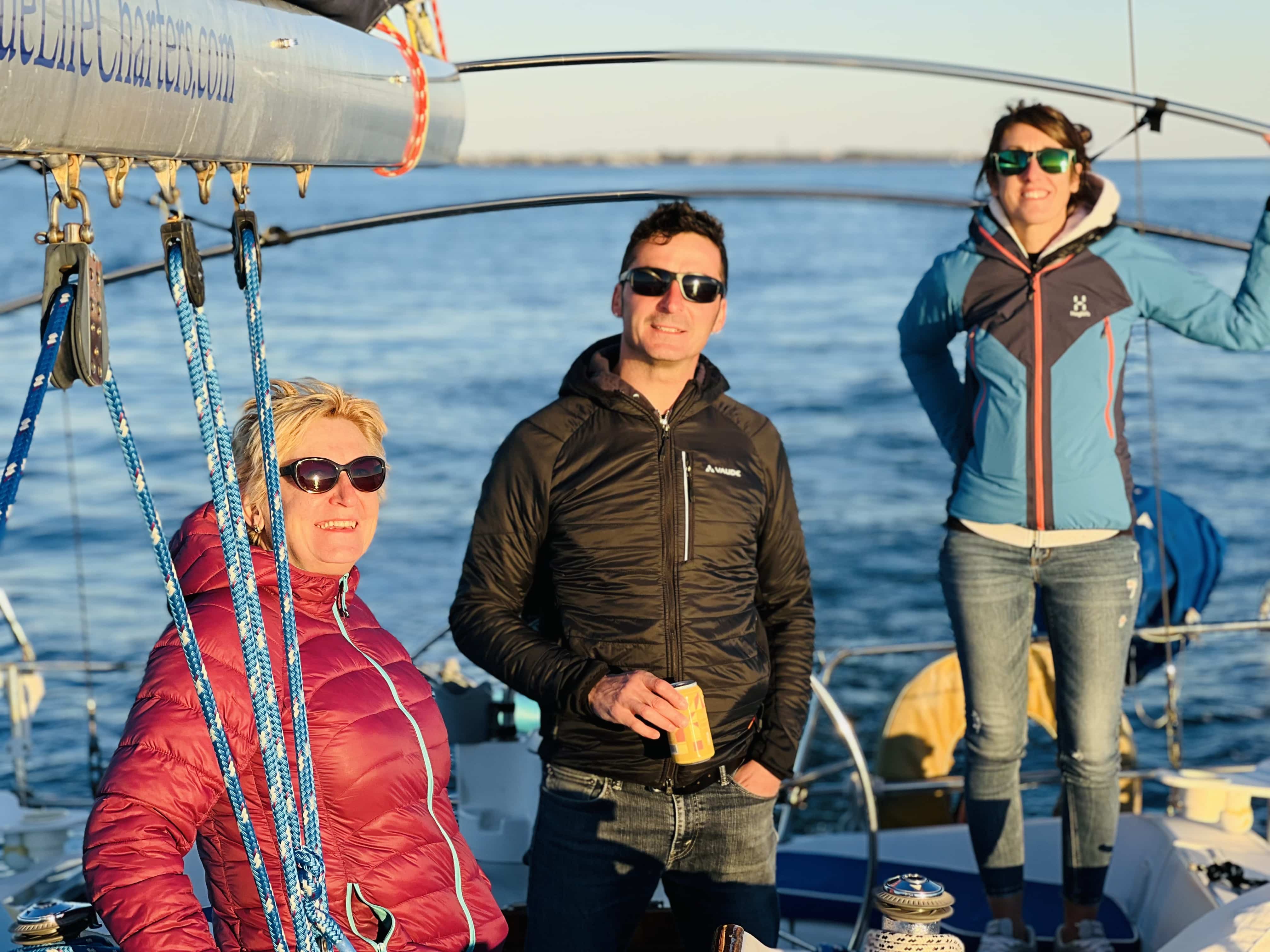 1. Dress for the Occasion:
Charleston's weather can be quite varied, so it's essential to dress in layers and typically you need to plan for it to be a few degrees cooler on the water versus land. Here's what to consider:
Sun Protection: Bring sunglasses, a wide-brimmed hat, and sunscreen with high SPF to shield yourself from the sun's rays. Please make sure it is a lotion-based sunscreen since the spray-on type causes damage to the boat. Don't forget to apply sunscreen generously, especially if you plan on being on deck for an extended period in Charleston.
Footwear: Non-slip, closed-toe shoes are your best bet. Deck shoes or sneakers with good grip are ideal. If you prefer you can always remove your shoes before coming on board. We keep a shoe basket on-hand and readily available.
Clothing: Dress to your preferred comfort level and also dress based on the season in Charleston and remember it is typically a few degrees cooler on the water than it is on land. A light, long-sleeved shirt can help protect against sunburn. During the summer months, you can wear your swimsuits if you would like. However, if you prefer to stay dressed stylish, then you don't have to worry about getting wet while on board. If sailing during the winter months, don't forget a jacket. We do provide blankets to keep you warm.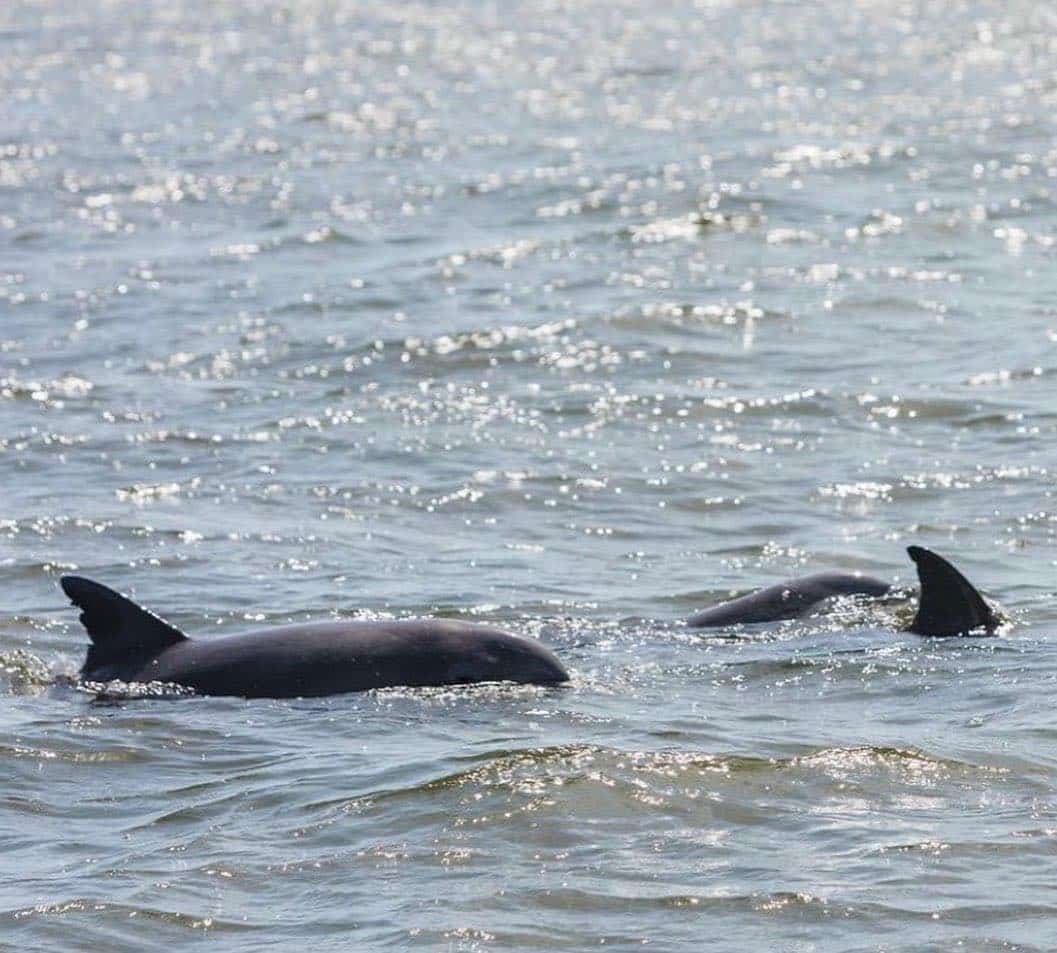 2. Packing Essentials:
Food & Drinks: Bring your favorite food and drink options to enjoy on the water. Our vessels are equipped with a refrigerator to keep your items cold. As well as eating utensils, flatware and glassware for you to use. If you opted for catering, your items will be delivered and set up on the vessel prior to your arrival.
Medications: If you require prescription medications, be sure to bring them with you if necessary. It's also a good idea to include seasickness medication if you're prone to motion sickness.
Water and Sodas: Staying hydrated is crucial, so we offer bottled water and sodas to our guests.
Cash: While Blue Life Charters crew do accept electronic payments like Venmo, PayPal, and credit cards, it's wise to carry some cash for incidentals or gratuity.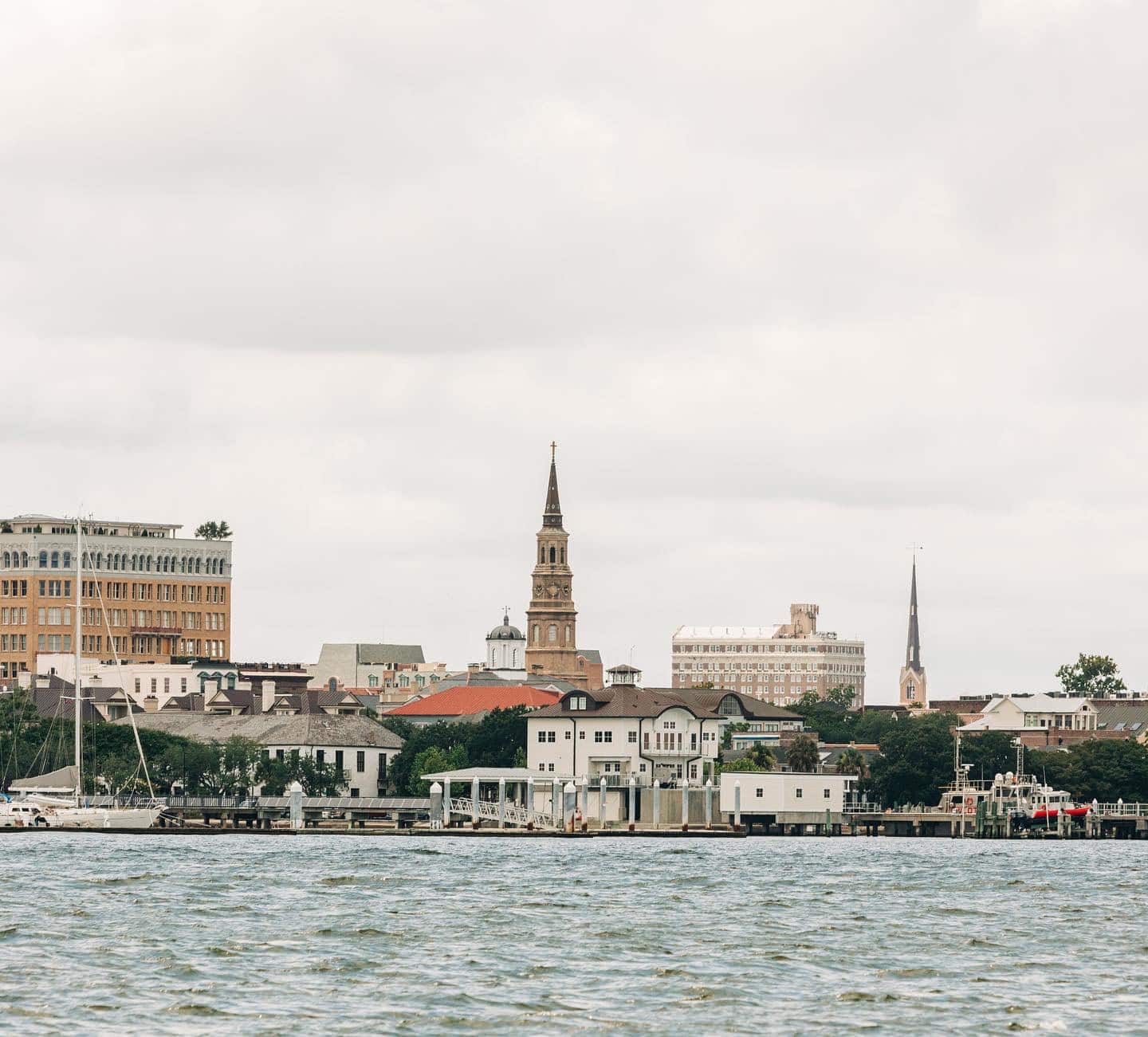 3. Protect Your Belongings:
Waterproof Bags: Invest in waterproof bags or pouches to keep your essentials, such as your phone, wallet, and keys, dry and secure.
Dry Bag: Consider bringing a dry bag for additional protection. It's handy for storing items you don't want to get wet, like extra clothing or towels.
Dry Area of Vessel: In preparing for sailboat tour, If you are unable to obtain a waterproof or dry bag, it's a good idea to store personal items in an area of the boat that is sure to stay dry. Below decks is always a safe environment for personal items.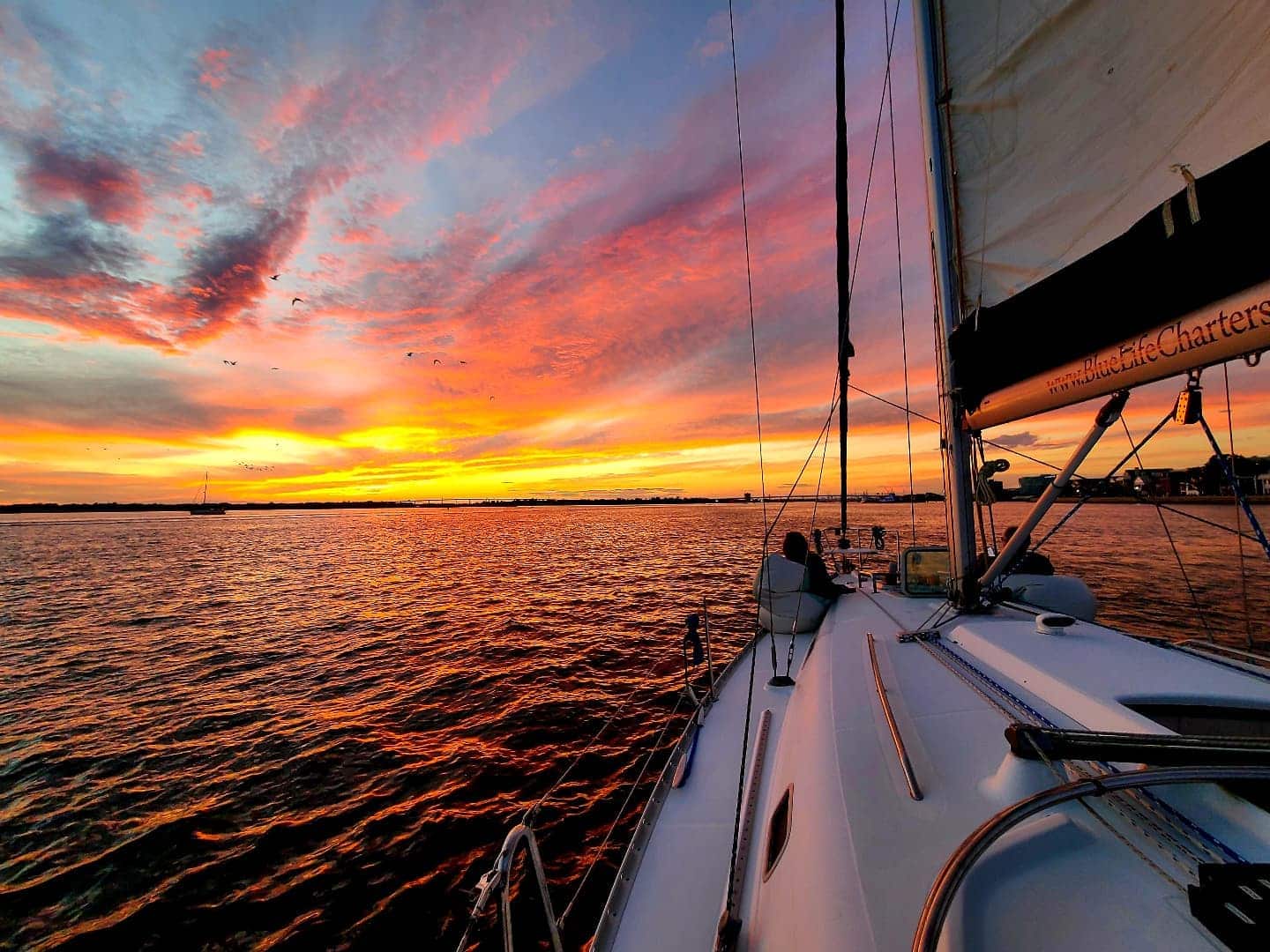 4. Understand Safety Procedures:
Before setting sail in Charleston, the crew will provide a safety briefing. Pay close attention to their instructions on life jackets, emergency exits, and what to do in case of unexpected situations. Your safety is their top priority, so be sure to follow their guidance.
5. Respect the Environment:
Charleston Harbor is a pristine ecosystem, so it's essential to protect it. Follow the "Leave No Trace" principles: dispose of trash properly, avoid touching or disturbing wildlife, and be mindful of the delicate balance of the marine environment.
By following these practical tips and preparing thoughtfully, you'll set yourself up for an unforgettable day of sailing in Charleston Harbor. The combination of the stunning scenery, historical sites, and the thrill of the sea will make your adventure truly exceptional. So, get ready to embark on an unforgettable journey, and let the charm of Charleston Harbor embrace you.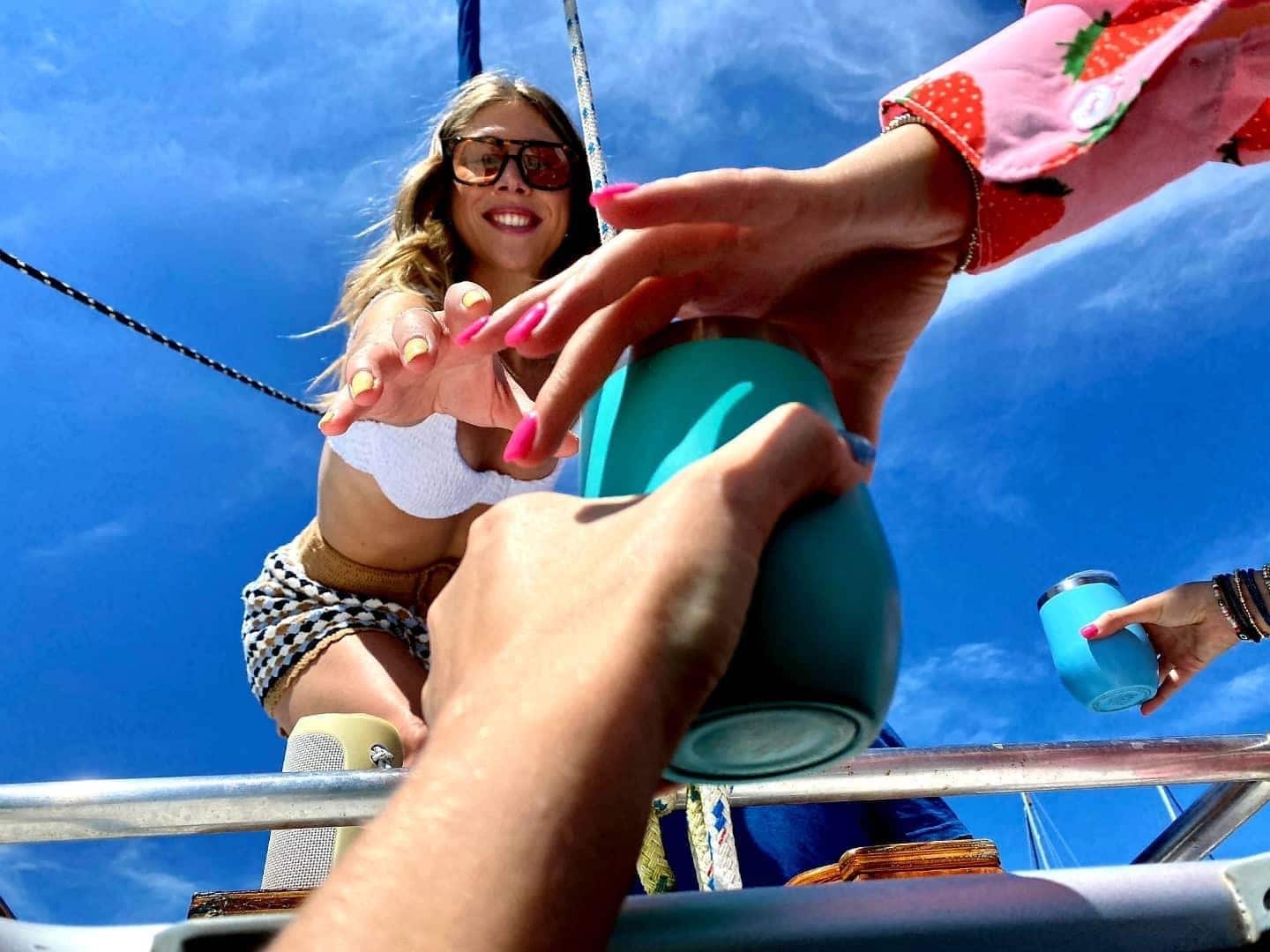 Book Your Private Luxury Sail in Charleston SC Harbor Today
Secure your private luxury sail in Charleston Harbor today and make words like "memorable" and "unforgettable" a reality in your vocabulary. Our team is eager to assist you, and your journey to explore Charleston Harbor's enchantment begins here. Still want more information to prepare? Check out some frequently asked questions we get for chartering one of our sailboats.
Prepare for Sailboat Tour, Prepare for Sailboat Tour, Prepare for Sailboat Tour
We strive to deliver a level of service that exceeds the expectations of our guests. If you have any questions about our products or services, please do not hesitate to contact us. We have friendly, knowledgeable representatives available seven days a week to assist you.